Financiers a la Framboise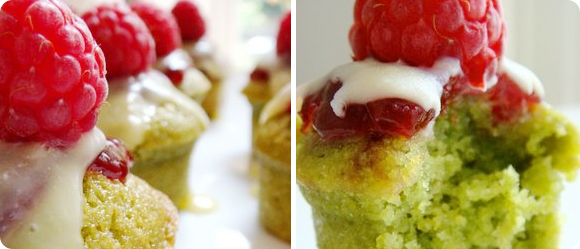 Ingredients
Financier:
115g unsalted butter
35g flour
90g icing sugar
1 tsp matcha powder
lightly beaten egg whites
50g powdered almonds
1/2 tsp vanilla extract
pinch of salt
Topping:
2 tbsp single cream
30g white chocolate
4 tbsp raspberry jam
12 raspberries
Procedure
Start by making the beurre noisette: melt the butter in a pan. Using a spoon, skim off the white foam (scum) that floats to the surface once the butter has melted.
Let the butter bubble for a minute or two until the milk solids at the bottom of the pan turn brown: this is how you add both a nutty colour and flavour to the butter. When the butter has turned golden brown, sieve it through some muslin (or a sieve lined with a sheet of kitchen roll). You should be left with approx. 85g of beurre noisette.
Now toast your almonds. Spread out the powdered almonds on a baking sheet and allow to slightly brown in a hot oven. Alternatively, toast them in an oil-free pan on your hob.
Then mix together the almonds, flour, sugar, matcha and salt in a large bowl.
Add the butter and vanilla extract and fold in the lightly beaten egg ("lightly beaten" can mean anything from "still very liquid" to "almost stiff": the more you beat the egg, the more your financiers will rise).
Preheat your oven to 200 degree Celsius. Butter 12 mini-muffin or cupcake moulds. Fill them almost to the rim and bake the financers for about 11-14 mins until slightly golden on top. Leave to cool.
To make the white chocolate ganache, heat the cream in a small pan. Break up the white chocolate into small pieces and place in a bowl. Pour over the hot cream and stir until the chocolate has melted.
In a small pan, heat the rasperry jam until liquid. This will make it easier to spread the jam over the top of the financiers.
Now assemble your matcha-cupcakes: first, glaze your little cakes with raspberry jam. Leave to cool a little, then drizzle over some chocolate ganache and decorate with one raspberry each.
Source: Pumpkin & Spice