White Chocolate Ice Cream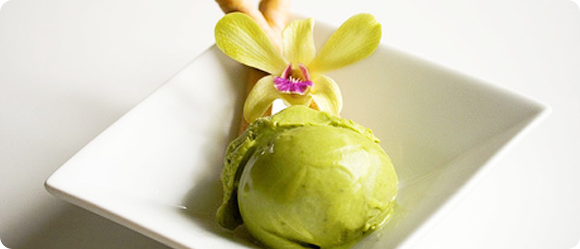 Ingredients
Makes about 1 litre
1 ½ cups heavy cream
1 ½ cups milk
1/2 cup granulated sugar
1/8 teaspoon fine salt
4 large egg yolks
8 oz white chocolate, finely chopped
2 tablespoons matcha powder, sifted
Procedure
Equipment: Ice cream maker + frozen insert, fine meshed strainer (chinoise), cheesecloth
In a medium heavy saucepan, bring the cream, milk, sugar and salt to a simmer over low heat, stirring constantly.
While whisking eggs, pour about 1/2 cup of the hot cream mixture in a thin, steady stream in the bowl of eggs. This should temper the eggs. Now pour the tempered eggs in the rest of the saucepan with the hot cream mixture, in a thin, steady stream while whisking the hot cream.
Cook over low heat, constantly stirring, just until the mixture is thick enough to coat the back of a wooden spoon, about 5 minutes. Do not let this mixture boil. Pour this mixture through a strainer lined with cheesecloth.
Place the chocolate in a microwave safe bowl and heat for 2 1/2 minutes, stirring at 30 second intervals until chocolate is melted. Add the matcha powder to the chocolate and stir vigorously with whisk to mix well. Add this to the strained hot cream and stir to blend. Cool this mixture and refrigerate until chilled.
Freeze according to the instructions for your ice cream machine.
Source: Steamy Kitchen