Catering & Retail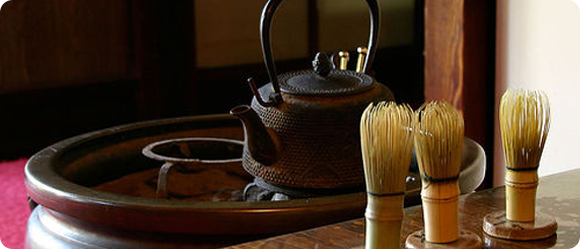 Would you like to add Koyu to your shelves or menu?
Matcha is one of Japan's most popular flavours of beverage and confectionery and this is now spreading to the west. Over 6000 outlets in North America offer matcha-flavoured products. We're starting in Ireland and the UK but want to bring matcha to Europe and beyond. We think this is just the start of a green revolution.
---

---

Cafes..
Need something new to boost sales and differentiate yourself from your competitors? Why not offer matcha as a latte, frappe or espresso? Starbucks Green Tea Frappucino is hugely popular on Canada's West coast and one Toronto cafe owner has estimated that 20% of her lattes have "gone green" since offering matcha lattes.
Juice Bars..
Why not offer something with huge health, detox and energy benefits? Koyu Matcha is just what your health-conscious customers are looking for. One of America's biggest juice bar chains, Jamba Juice, offers matcha-based beverages across its 800 stores.
Retail/Health food store..
Matcha products have been arriving onto some of North America's best-known health food outlets such as Whole Foods Market and Trader Joes. We've brought matcha to Ireland and the UK where the reaction has been fantastic. The word of mouth and repeat sales means matcha will boost your income as well as your energy levels.
Confectionery/Restaurants.
Matcha is one of the most fashionable new flavours in patisserie in Paris pioneered by world renowned patissiers such as Sadaharu Aoki and Pierre Herme. Heston Blumenthal has also added it to his dessert menu. Where these men lead, others will follow. Why not be at the forefront of the wave?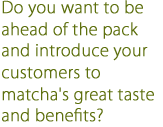 We will be delighted to assist you in any way possible. Whether its advice on beverage preparation, matcha in cooking, or matcha's unique health benefits, we will provide you with expert advice, point of sale material and any training you or your staff may require.
On the business side, we offer volume discounts, free shipping on large orders as well as larger catering sized products, if necessary.
If you do not receive a reply within 24 hours please contact us directly at thematchastore@gmail.com or call us at the number at the bottom of the page