Matcha Confectionery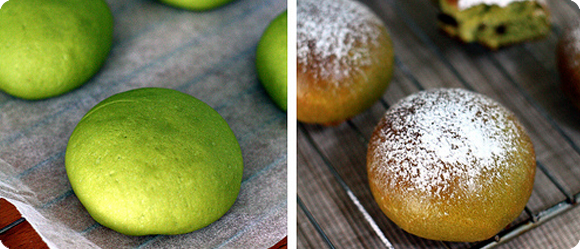 Cakes, cookies, etc..
Matcha is not just an amazing source of health and energy, it is also one of the world's great food ingredients.It is one of Japan's most popular confectionery flavours: cakes, cookies, ice-cream, desserts, chocolate as well as the traditional Japanese sweets, wagashi.
Matcha's unique taste and incredible colour turn your regular favourites into something extraordinary.No wonder it is one of the hottest new flavours among the best Parisian patissiers such as Pierre Herme and Sadaharu Aoki. The alchemist Heston Blumenthal has also recently added it to his menu. Here are a selection of the best the web has to offer.
Recipes
Matcha Shortbread Cookies

Shortbread cookies with a kiss of green tea.
Get the recipe for Shortbread Cookies
Matcha Chiffon Cake

A light and luscious chiffon cake with chocolate chips.
Get the recipe for Chiffon Cake
Green Tea Cupcakes

Mini-cupcakes with your favorite matcha.
Matcha and White Chocolate Ice Cream

Delicious white chocolate ice cream made with matcha!
Get the recipe for White Chocolate Ice Cream
Matcha Marble Cake

Make a matcha marble cake or cupcakes with this tasty recipe.
Get the recipe for Marble Cake
Matcha Madeleines

A classic favorite.
Matcha Financiers a la Framboise

Delicious strawberry cupcakes with a white chocolate frosting.
Get the recipe for Financiers a la Framboise
Matcha Icebox Cookies

A simple matcha butter cookie.