Icebox Cookies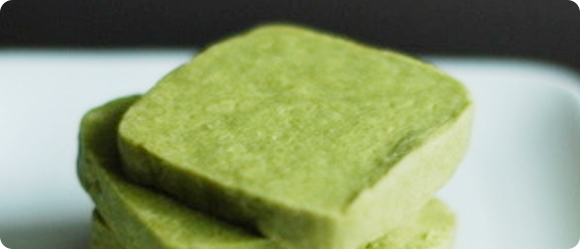 Ingredients
3 cups all-purpose flour
1 cup confectioners' sugar
1 Tablespoon matcha
1 cup cold unsalted butter, cut in pieces
1/2 teaspoon salt
4 large egg yolks
1 teaspoon vanilla extract
Procedure
Sift together flour, confectioners' sugar, matcha and salt in a large bowl.
Use food processor or hands to mix butter into flour mixture until mixture is the texture of coarse meal.
In a small bowl, lightly beat egg yolks and vanilla; add to . Process just until a dough forms
Divide dough in half; form into two 2-inch square logs, each approximately 5 1/2 inches long. Wrap logs in waxed paper; refrigerate until firm, at least 2 hours. You may also freeze dough up to 2 months.
Preheat oven to 350 degrees. Slice dough crosswise, 3/16 inch thick; carefully transfer slices to baking sheets.
Bake until edges are firm (not brown), 10 to 15 minutes. Cool 1 to 2 minutes on baking sheets; cool completely on a rack.
Source: Talida Bakes