Chiffon Cake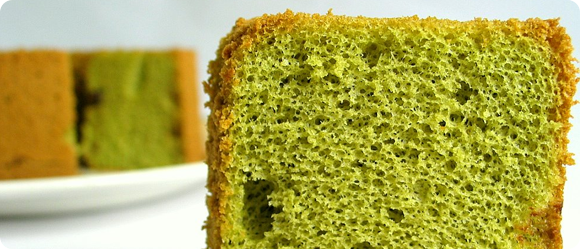 Ingredients
Makes one 16cm cake
1 tablespoon green tea powder
30ml milk
2 egg yolks
20g caster sugar
20ml vegetable oil
40g self-raising flour
2 egg whites
1/4 teaspoon cream of tartar
50g caster sugar
dark chocolate chips
Procedure
Sieve flour and green tea powder together, set aside.
Separate egg yolks/whites and bring to room temperature.
Whisk egg yolks and sugar in a mixing bowl until sugar just dissolved. Add in milk and oil. Whisk till combined. Sieve over the flour and green tea powder mixture and fold gently with a spatula until flour mixture is fully incorporated into the batter..
Add the egg white foam into the egg yolk batter in 3 separate additions, each time folding gently with a spatula until just blended.
Pour 1/3 of the batter into a 16cm (6 inch) tube pan (do not grease the pan). Sprinkle chocolate chips over the batter. Pour the remaining half of the batter. Sprinkle with chocolate chips. Pour the rest of the batter into the pan. Spread the batter evenly.
Bake in pre-heated oven at 170 degC for 25 ~ 30mins or until the cake surface turns golden brown, and a skewer inserted into the centre comes out clean.
Remove from the oven and invert the pan immediately. Let cool completely before unmould.
Source: Happy Home Baking