Cupcakes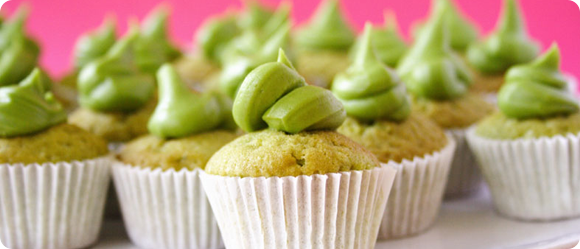 Ingredients
Makes about 50 mini cupcakes
110 grams of butter at room temperature
2 cups sugar
2 eggs
2 egg yolks
3 cups flour
2 teaspoons baking powder
1/8 teaspoon salt
1 cup milk
1 tablespoon matcha
Procedure
Preheat the oven to 180 degrees Celsius.
Beat the butter on high until soft and a touch lighter.
Add the sugar and beat on medium high until light and fluffy.
Add the eggs including the egg yolks one at a time beating well to incorporate between each addition.
Sift together the flour, baking powder and salt.
Add to the batter and mix until well combined.
Whisk the matcha in with the milk and add slowly to the batter until well combined and mixed through.
Spoon the batter into the cupcake papers until 3/4 full.
Bake for about 12 to 20 minutes depending on cupcake size.
Remove from tray to cool. Once cool, frost.
Frosting
110 grams of butter at room temperature
2 tablespoons of single cream
1 tablespoon of matcha powder
3 cups of icing sugar, sifted
Make a paste by adding the matcha to the cream.
Whip the butter briefly and scrape down the sides.
Add in the sifted sugar and matcha paste.
Whip all together until it's a smooth, light and airy.
Notes
I use a piping bag without a metal point to put the batter into the papers. It's so much easier and less fiddly (especially with the mini papers).
I find I don't need a cupcake pan when doing the mini cupcakes. The papers hold up the batter on their own. If using medium or large sized papers, I would definitely advise using a pan.
Taste test the batter and frosting to ensure the matcha is distinct in flavour. Different powders have different strengths, so make sure the batter is stronger than the end result that you wish to achieve. The matcha flavour remained, even after 2 days.
Source: Daydream Delicious