Marble Cake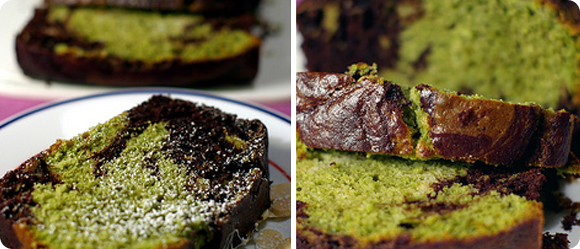 Ingredients
2 cups cake flour
1 teaspoon baking powder
1/2 teaspoon baking soda
1/2 teaspoon salt
1 teaspoon instant espresso or coffee powder
1/3 cup dutch-process cocoa powder
1 1/3 cups sugar
1 whole egg
1 egg white
6 Tablespoons unsalted butter
1 cup low fat yogurt
1 teaspoons vanilla extract
1.5 teaspoons matcha powder
Procedure
Have all ingredients at room temp. Preheat oven to 350 degrees with rack in the lower third of the oven. Spray 8-10 cup tube pan with cooking spray.
Use a whisk to combine four, baking powder, baking soda, and salt. Sift together. Set aside. In a small bowl combine the espresso powder, cocoa and 1/3 cup of the sugar with 1/4 cup of water. Whisk until smooth. Set aside. In another small bowl, whisk whole egg with egg white. Set aside.
Cut the butter into pieces and place in an electric mixing bowl. Beat for 1 minute to soften. Gradually add remaining 1 cup of sugar and beat at high speed for about 3 minutes. Dribble eggs in slowly, about 1 T at a time, beating constantly for about 2 minutes. On low speed, beat in a third of the flour mixture. On medium-high speed, beat in half of the yogurt. On low speed, beat in half of the remaining flour. On high speed, beat in the rest of the yogurt and the vanilla. On low speed, beat in the remaining flour.
Measure out 1 1/2 cups of yogurt batter and mix into the cocoa mixture. Set aside. Add matcha powder to the rest of the yogurt batter in the mixing bowl.
Use a large spoon to fill the bottom of the pan with about three quarters of the green batter placed in dollops. Cover the green batter with dollops of chocolate batter. Top the chocolate batter with small dollops of green batter spaced so that the chocolate batter shows through. Use a table knife to marble the batters together with a circular or zigzag motion; be careful not to blend them too much.
For cupcakes, scoop a heaping tablespoon of either green or brown batter into each paper liner, and cover it with the alternate batter. Marbling the batter with a knife is optional. If you do not marble the batter, you will get a two tone cake instead of a marble cake. Which I think looks equally elegant and appealing.
Bake for 45-50 minutes for cake, (20-25 minutes for cupcakes) or until the cake starts to pull away from the sides of the pan and a toothpick inserted in comes out clean.
Cool for 10-15 minutes on a rack. Unmold the cake. Cool completely before serving or storing.
Source: From the Oven