Shortbread Cookies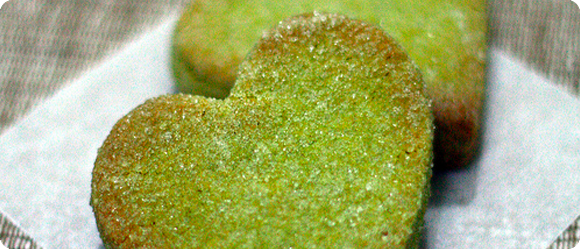 Ingredients
75g Confectioners sugar
150g Unsalted butter, cut into cubes
235g plain flour
3 large egg yolks
1.5 tbs Matcha powder
1 cup Granulated sugar (for coating
Procedure
Preheat the oven to 350F. Prepare your baking sheet. Whisk the confectioner's sugar and green tea together in a bowl.
Beat the butter with your electric mixer in a bowl, then add the green tea/sugar mixture & mix until smooth and light in colour.
Add the flour and mix until well combined. Add the egg yolks and mix just until the eggs are fully incorporated.
Form the dough into a disk and chill in the refrigerator until firm (about 30 mins).
Remove from the refrigerator & roll the dough out. Cut the dough with a cookie cutter.
Toss each cut cookie in a bowl of granulated sugar to coat. Place the sugar-coated cookie on your baking sheet.
Bake for 12-15 minutes, or until slightly golden around the edges.
Source: Sweet Temptations