Madelines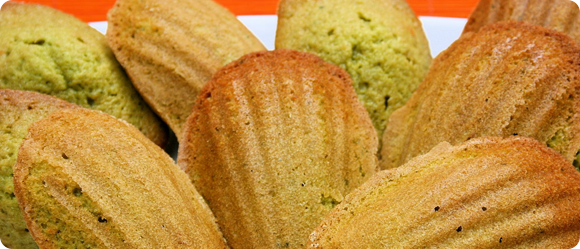 Ingredients
1¼ cups flour
1 teaspoon baking powder
pinch of salt
2 teaspoons matcha
1½ sticks (¾ cup) unsalted butter
2½ teaspoons honey
4 large eggs
¾ cup sugar
2½ tablespoons packed brown sugar
1 tablespoon grated lemon peel
Procedure
Equipment: madeleine pans (3-inch-long molds)
Whisk flour, baking powder, salt and matcha in a bowl. Place butter and honey in a microwave-proof dish and microwave for one minute. Stir, and microwave 30 seconds longer or until butter has melted.
In the bowl of a stand mixer, whisk eggs, sugars and lemon peel until combined. On low speed, add half of the hot butter mixture and mix until blended. Add half of the flour mixture and mix again until blended. Repeat with remaining butter and flour mixture being careful to mix the batter just until the flour is incorporated. Let batter chill for one to three hours.
Preheat the oven to 450ºF. Butter and flour madeleine pan or pans. (Note: If you only have one pan, it is important to let each batch of madeleines cool completely in the pan. The pan should be washed, re-buttered and re-floured as well before using on a second and third batch.) Place heaping spoonfuls of the batter into the molds. Don't worry about spreading the batter — it fills the molds and rises in the oven.
Bake five minutes. Reduce heat to 400ºF and bake five more minutes. Check madeleines: If they are golden brown around the edges and puffed in the center, remove from the oven. If necessary, continue baking. (They may take an additional five minutes.) Remove pan from the oven, and let madeleines cool completely in their molds before removing. Serve at room temperature with tea.
Source: Alexandra's Kitchen